I will introduce the 

new products shipped today


1/150 STR14 Tokyo Monorail 10000 6 6-car formation display model (painted)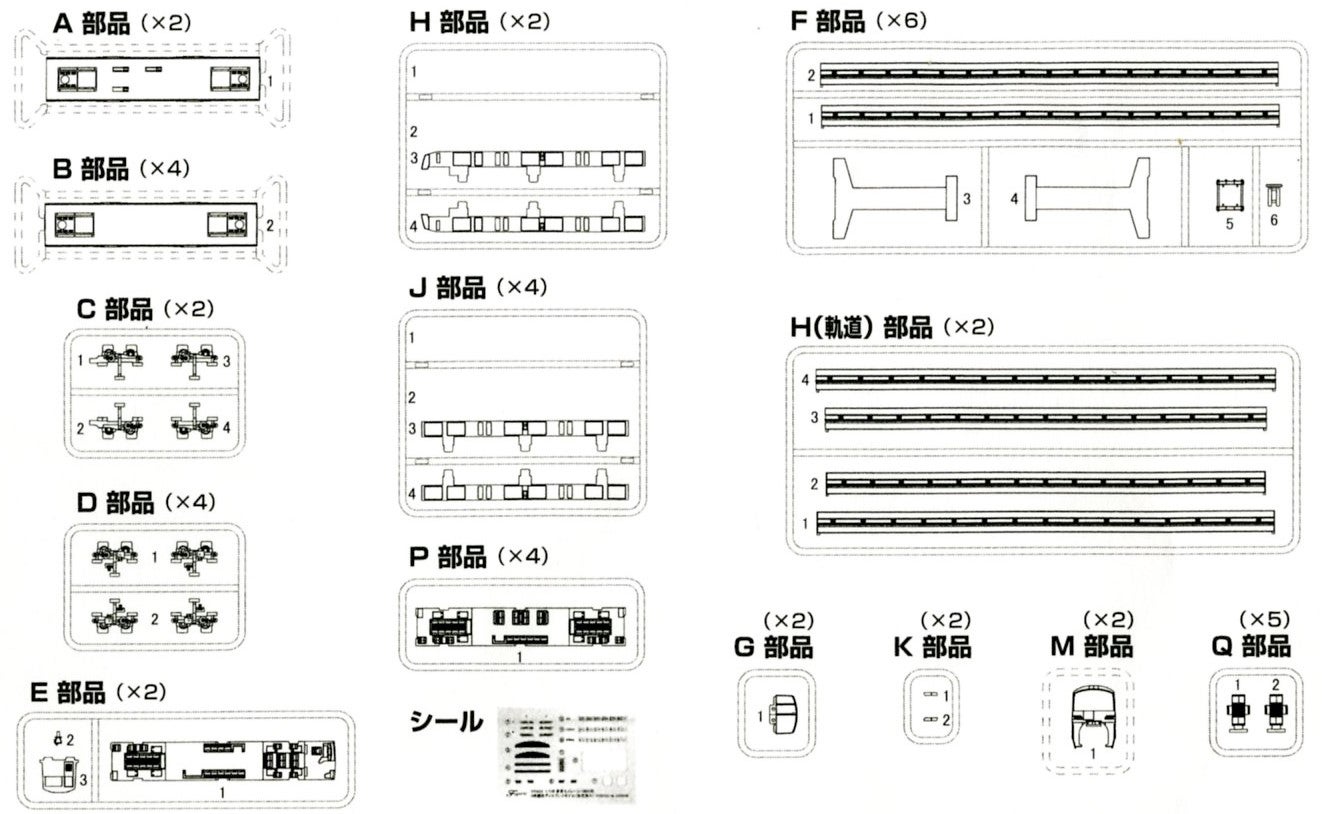 Easy to assemble the latest model of the Tokyo monorail "10,000" · Display model with complete new mold !
In July 2014 the first organization began commercial operation in order to replace the 1000 form that has been active since the past.
Based on the 2000 type, the car body is reduced in weight by double skinning
, The painting is colored with a gradation of "green, sky blue, blue" which imaged "mountain and sky, ocean" and renewed the image.
As of 2017, 5 cars of 6 cars are active.

The scale of the product is 1/150 and it is set as N gauge scale .
Coloring by painting and printing is given in advance, and it is a specification that can reproduce six full-knitting easily by just assembling.
After completion, the orbit and bridge pier for viewing exhibition are also set
The main part assembly is a press-fit design. We are reducing the use of adhesive
↑ ↑ Tips on assembly are also listed in the manual
Coloring is also applied to the body's gradation color ring, front / side window frame.
Characteristic coloring is reproduced by painting and printing,
Unique exterior shape expresses with delicate sculpture expression without damaging the image.
Logo mark, car notation, wheelchair mark etc notation beforehand print expressions
Seals to reproduce detail markings are included !
Recording direction curtains and vehicle numbers etc, you can reproduce details!

* The body shape is reproduced with prototype 1, 2 cars closer to Hamamatsu Town.
* Please understand that some vehicles have different antennas, skirts and seating arrangements.
* It is a display model. I will not do free-running.
1/24 Car NX 5 Suzuki Hustler (Pure White Pearl)
Play light, leave, the hustler second series of car NEXT series " painting faction user to" ! !
Decal of new design comes with white molded color considering painting !
It is a colorful mini car that was born as a crossover that can be used as desired in the outdoor that started selling in 2014.
It adopts snap fit type, it can be assembled without using adhesive .
The molding color is set with the white color of the "predominant background for painting" that can also make "white hustler" .
1 seal, 1 window glass pane shadow seal, 1 decal included.
To reproduce the appearance that the instrument panel finished with the same color on the body of the white
Dedicated seal for the instrument panel · sheet edge is included.
In addition to the standard marks on the decal, it seems to be able to play like the real thing
Checkered decals and side garnishes are included.
It is reproducing the former standard before equipping the genuine option with the motorcycle X grade motorcycle.
* Molding parts 109 points
* Completion size total length approximately 14 centimeter full width approximately 6 centimeter total height approximately 7 centimeter
Rainy days continue in Shizuoka

Every day hot it is hot ~
When going out is a big deal, how about making a plastic in a cool room, how about

Please introduce the new product introduced, by all means